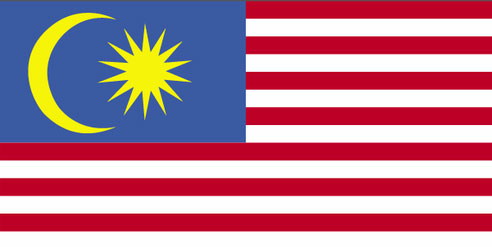 Ever since I was a young boy, Merdeka to me were just three things. One was a school holiday(yay!). The second was we(my dad & mum, sister and brothers) watched the parade march past on television of the military and people from various faucets of life. The third was the occasional waving of the small Jalur Gemilang (Malaysian Flag).
This parade march past was in front of our King, the Yang di-Pertuan Agong, our Prime Minister, the cabinet, distinguished guests from many countries around the world and of course us, the tv viewers throughout Malaysia. I was more interested in the fly past of aircraft from our air force(definitely more than four fighter jets). Think of this, every year is about the same parade march past, yet every year we eagerly watched it. One year, my Uncle Bob (Bob Gomes) was in this parade. I believe he represented the Malaysian Postals or Pos Malaysia as what it is known today. Wow! We were so proud that we had a family member participating in the March past in front of our King.
This interest of watching the Merdeka Day celebrations(as it is more commonly known) on tv, diminished when I started working life and eventually stopped. I looked forward to this public holiday(as in any public holidays) to chill and do my own things.
In the mid-1990s, I used to work in Kay El (K. L. or Kuala Lumpur), with my head office situated at Wisma Sime Darby in Jalan Raja Laut. Vehicle traffic and parking used to be at best, horrendous(still is). So, I used to walk to various places around that area to do my payment errands. Back then, online banking was not introduced. At one particular period of time, nearing Merdeka Day, then; the Royal Malaysian Air Force(RMAF) were practising for the flybys for Merdeka with the American made Skyhawks. These planes flew real low over the Klang river which is parallel to Jalan Raja Laut, at least lower than some of the taller buildings (it seemed that way) in that area. I was on one of my errand walks at that time. I was in awe and thrilled to see this aerial display of multiple jets at such close range. This show went on for over half an hour, I think. Many of the Kay El-ites were just as thrilled as I was about this display of our air force at close range. It seemed to be a feat to fly in the city area. Since then, August 31st is usually the rest day after my niece, Sarah's birthday and wedding anniversary celebrations (at times)of my brother Nigel and his wife, Shirley.
Fast forward to May 9th 2018, was when the rakyat of Malaysia voted in Merdeka for all Malaysians, not for an exclusive few. The euphoria of a new Malaysia, a kickstart or re-boot if you like, is unprecedented in the history of Malaysia. People witnessed old political foes put aside their past indifference to come and work together to save Malaysia from the jaws of bankruptcy and foreign economic colonialism of the previous government. While the big capitalist countries viewed Malaysia through the "lens" of GDP or Gross Domestic Product figures as doing relatively well, everyday Malaysians didn't share this same view. Prices of mostly everything seemed to have been spiralling out of control, though the government at that time kept trying to assure us that everything was fine and dandy. Then again, they kept slipping in all sorts of taxes and from what we are told by the new current government; they(the previous government), kept adjusting or manufacturing figures in their "Buku Tiga 5" accounts.
So, now we have had a new government of nearly 4 months. Change is imminent or at least expected. The new government has many "greenhorns" in the cabinet. Plus what used to be the "opposition" for nearly 61 years; is now the government. That itself may be a "culture shock" to them. There has been many public "expose(s)" of the huge misdeeds of the former government, some of the laws have been repealed, while many other smaller corrections have been made to the system – hardly any of these have financially been felt by the everyday man/woman/child in the street. There are still an overwhelming amount of "kinks" in the system. To be fair to the sitting government; we were warned that it was going to be a tough and bumpy road ahead in the immediate future at least. There seems to be "cracks" appearing in the government. Our newly "minted", young and energetic 7th Prime Minister, Tun Mahathir Mohamed, at 93 years of age;(why this is constantly highlighted in all media – we have no excuse to talk about retiring at 60 years. We have to re-look at ourselves.) has his plate full – clean the mess from the past; manage the present; and, steer Malaysia into a new, positive future. It can be achieved together with his cabinet and with all Malaysians. Harapan or hope is what Malaysians of all walks of life have 'breathed' in this new Malaysia.
Oh! And the flybys of military aircraft that I used to watch on television at the Merdeka celebrations and the one time "aerial display" of our fighter jets at their Merdeka rehearsals some 20 years ago… well, I have been treated to the low flybys of our new beautiful Airbus A400M military aircraft – all 4 of of them for the last two to three days, and then again, this morning – simply awesome!
Alan Ian Atkinson